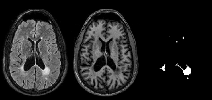 The toolbox "LST: Lesion Segmentation Tool" is an open source toolbox for the segmentation of lesions in Multiple Sclerosis (MS) for SPM8 and SPM12.
The toolbox allows to detect T2 hyperintense lesions (e.g. in Multiple Sclerosis) based on a T1 and an additional FLAIR image.
Beside the segmentation a utility function for filling lesions in T1 images is implemented.
Development
The toolbox was developed by a collaboration of the following organizations: Morphometry Group, Department of Neurology, Technische Universität München (TUM), Munich, Department of Statistics, Ludwig-Maximilians-University, Munich, Germany, and Structural Brain Mapping Group, Departments of Neurology and Psychiatry, Friedrich-Schiller-University, Jena, Germany. The rationale, approach and further details are available in a NeuroImage paper.
Download
We make the software available at the website of the Steinbeis Center for Applied Statistics.
Installation
Download LST.
unpack the zip-file
remove the old LST folder
copy or link the LST folder to the spm/toolbox directory
You can start the toolbox by choosing "LST" in the "Toolbox" selector.
You need the VBM8 toolbox to use LST.